hallway-furniture-large-open-doors-paintings
6 ideas to tart up your hallway
Katie Adema, April 2016
We pay a great deal of attention, time and money on making our kitchens, bathrooms, bedrooms and living spaces look amazing. But what about the room that connects all of these key gathering spaces together? Hallways are often forgotten in the grand scheme of things – and yet they can be utilized extremely effectively to unite the design concepts in your home. If you aren't sure where to start, we have some easy ideas to inspire you:
Light your way
Lighting can be the literal spark that your hallway needs. A line of pendant lighting hanging down the centre can give a modern feel, while a feature piece down one end, like a chandelier, lends a more luxurious ambience. Don't restrict your thinking to hanging lights only - tall lamps that line the hallway can also have a great visual effect. Lighting doesn't have to be complicated either - just simple LED downlights can have a striking effect when strategically placed down the sides or on alternating sides of the ceiling.
Hang in there
This is a super easy way to transform any hallway – it is also a great excuse to rip into those old family albums, or finally get those digital photos printed. In an increasingly technologically focussed world, it's nice to actually have printed photos up around the house. Hang framed photos of the same size in set intervals down the walls for a simple but striking effect, or gather randomly sized photos and hang sporadically or in small groupings for a more artsy approach. A collection of sketches, graphic prints, or oil paint artwork work just as well, especially if they are designed to be hung together – this creates a fantastic design unity through the space.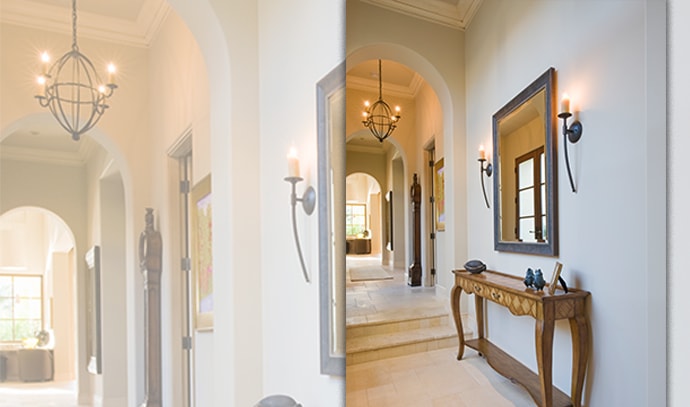 Bring in the books
Whether you actually use the books in your household or not, your hallway provides the perfect space for them to become a design feature of your home. If you have enough books, floor to ceiling bookshelves down one side of the hallway is particularly striking – if not, sets of shelves along the hallway at intervals, or even a single shelf that runs high up along the wall are also great options.
Vintage flair
Feature pieces with an antique edge can be exactly what a bland hallway needs to lift it and give it personality. If your hallway is too narrow (or has to handle a lot of foot traffic) then introduce the vintage feel to the space with unique lighting pieces or old artwork and posters. Wallpaper is another space saving option.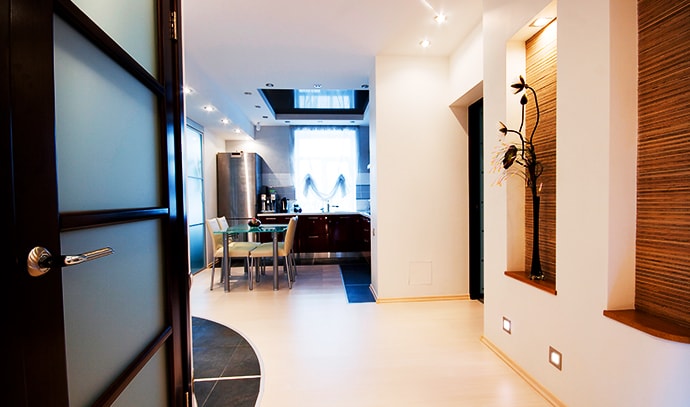 Focus on texture
Being pressed for space doesn't mean you can't add interest to your hallway – you just need to approach it slightly differently. Bring in texture and colour through your choices in materials and décor, including wall and floor coverings and furnishings. Bead detail on lamps, textured wallpaper in rich hues, or even luxurious floor finishes like marble tile or chocolate coloured wooden planks.
Storage solutions
If you are more practically minded than aesthetically inclined, your hallway space presents a different kind of opportunity to you. This is especially the case if the hallway is connected to the main entrance of your home – simply throw in a coat rack, umbrella stand, or shoe cupboard/ shelf for easy storage of much used items. If you are lucky enough to have a hallway that has inbuilt cupboards, you could even dedicate the space to storing linen and bedding, or sports gear like tennis rackets and skateboards.
Back to top